Nuria Iturrioz is three-time LET winner, picking up her first trophy in just her second appearance at the 2016 Lalla Meryem Cup before going on to claim back-to-back titles at 2019 at the Lalla Meryem Cup and the Omega Dubai Moonlight Classic.
Known for her playful antics on course, we caught up with the Spanish sensation to find out more about the women behind the loveable smile.
I love to play all sports. I used to play tennis,
soccer and swimming but my dad was the greenkeeper at my local club so that
meant I tried the game out quite young. I enjoyed it from the start and ended
up getting lessons from the pro at my club and he has trained and mentored me
ever since.
My dad is my hero. It is sad to say that he died in
2011 from cancer, I was only 14 and it was very hard for me and my family. I
went to Madrid the year that he died to study at a special golf / sports school
and I did not understand how ill he was. Life happens and it taught me so much
and to appreciate everything that you have. I stayed in Madrid until I
graduated High School at 18-years-old.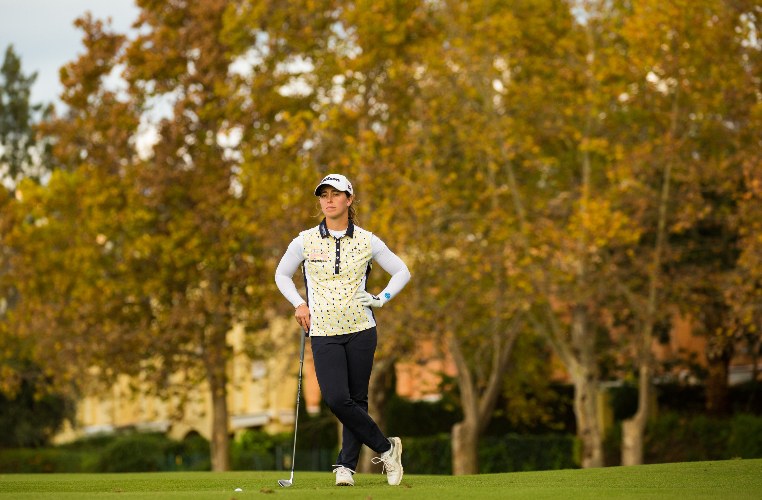 He was the one to pushed me to go there. My Dad found
the college and spoke to them and because of him I was able to realise my dreams.
I had just started competing for Spain, he thought it was a good idea to help
me improve more. I am so pleased that he pushed me to go there because it was
the best experience of my life.
My coach said I had to choose one sport. At the age
of 11 or 12 my coach said that I must choose between tennis and golf because
they couldn't go together. I think there are quite a few players on the LET
that played Tennis too and wish you continue both. When I chose to go to Madrid,
I said I wanted to be a professional golfer and having grown up in a small
village, it broadened my horizons.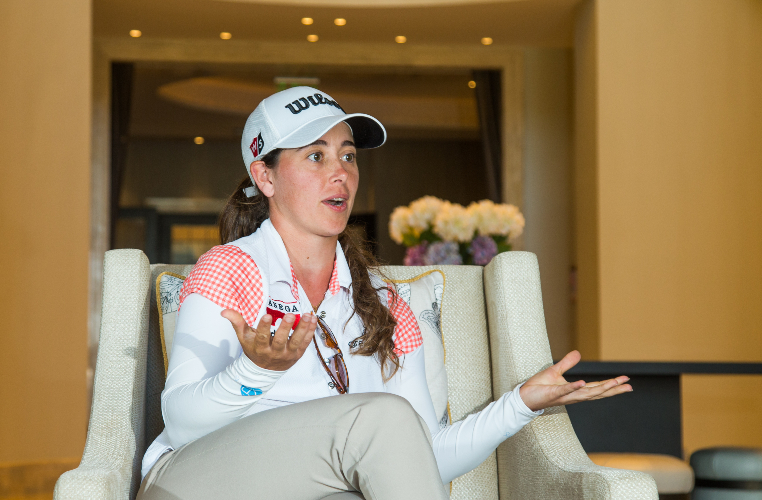 Jon Rahm went to my school. He was the same as he is
now. Big, focused and practiced hard. He is the year above me. Everyone there
was better than me when I arrived as they had a lot of experience already, but
I used that to motivate me.
All the girls liked Jon. He was cool and everybody loved
that he was so good at golf. We all felt that he was going somewhere big, he
was always putting in the room and practicing whenever he could.
I was ready to turn pro. I had got to 7th
in the World Amateur Rankings and won a few big tournaments like the Spanish
and French amateur titles so I was confident about my ability but also aware
that once I became pro, I would be the rookie again, just like all those years
ago in Madrid.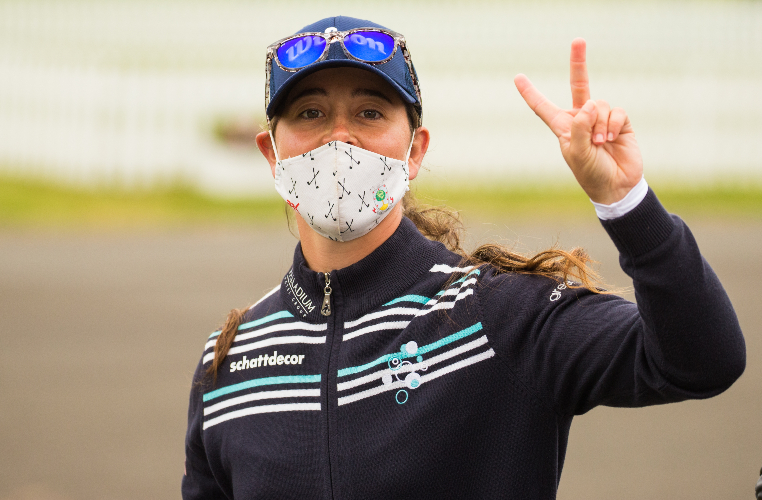 It was a dream start. One of the best things about
turning pro was winning so early. I was like 'wow, now what do I do?' My
expectations were so high, and I love winning, so it felt amazing.
My will to win can sometimes be a weakness. It is a
strength because it pushes me to be the best, I can be, but I am learning to be
more patient. My experiences on the LET and the Symetra Tour have helped me so
much because being paired with top players lets me learns from them and see how
they deal with the pressure. I played the final round with Emily Kristine
Pedersen in Spain and she looked patient and in control all day. It is moments
like that which will help me to improve.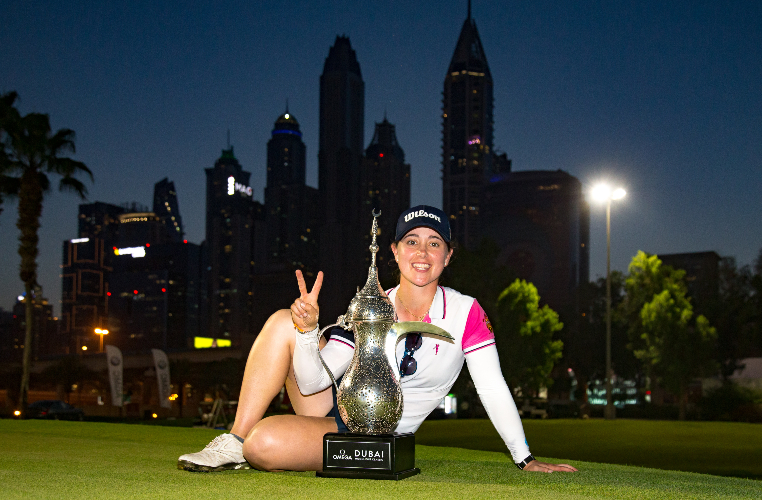 My objective is to play LPGA but I will always be happy
to play in Europe. It is where I grew up, it is where I learnt the game and
I love the courses, but I want to keep challenging myself. I am looking forward
to another year on the LET but I want to also to play on the LPGA. In the US the
grass and course setup are different; I find it more difficult to control my
wedges and the greens to read the breaks.
I love the camera. My mum always said I have a face
for a camera because I am always smiling.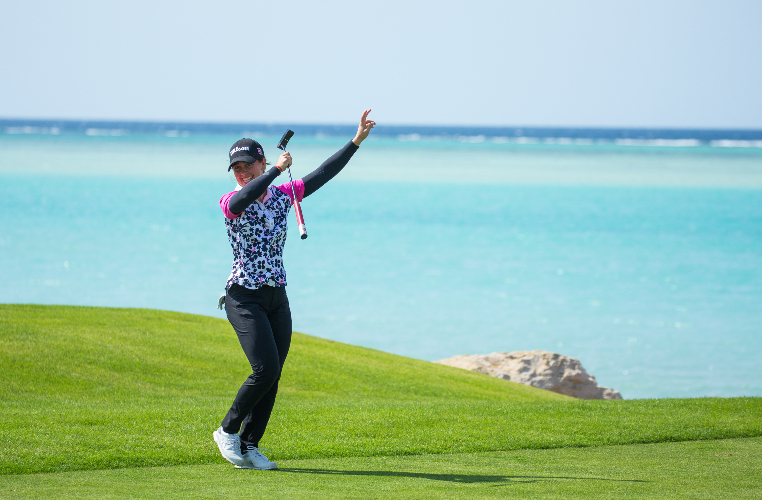 I also like to dab. I do it because of Ronaldinho, I
am a big fan of Barcelona. When I see photos of me doing this I just laugh
because I think it is funny to be animated on the course and not be so serious.
I love playing golf and I love my job.
Not many people know about my pancreatitis. I turned pro and then suddenly, just a week later, I was in hospital. It was a massive shock but again, it was a time in my life where I had to deal with an obstacle and overcome it. It made me stronger.
Quickfire Q&A
Who is your hero? Rafael Nadal
What makes you happiest? My dog, Tim
Best travel buddy? Luna Sobron
Desert island dish? My Grandma's Tumbet
Golfing superstitions? Warm up
What is your most treasured possession? My
Golf Trophies
What would you sing at karaoke? Any
reggaeton music
Favourite Course? My Club & Hazeltine
National Golf Club.
Dream fourball? Will Smith, Jennifer
Anniston, Tiger Woods