LET rookie professional golfer Leonie Harm is taking advantage of the tournament down time through an internship at the biotech company CureVac AG in Tübingen, Germany
The 22-year old is a Biochemistry and Biophysics graduate and her goal is to work in cancer research after her playing career
"I don't want to be defined by what happens to me in life. Instead, I want to be defined by what I make happen," says Leonie, who has already experienced major personal setbacks
Professional athletes normally have a single big passion – their sport. At some point, their amusement turned into an occupation. Therefore, some say it was a calling when it involves having a career in their sport, others speak of destiny. It is no different for Leonie Harm. The 22-year old took golf up at an early age and established herself far beyond her Southern German home, all over Europe, as a teenager. A promising golfer was evolving, summoned to master some major challenges. Said challenges came earlier than expected and they were not only of a sporting nature. Consequently, the term "destiny" has a slightly different nuance for Leonie. Hence, in the weeks that the Tour has been on hold, she has not just been working on her game, but also on her other big passion – biochemistry.
Cancer researcher for family reasons
Since the beginning of April, Leonie has held an internship position at the Tübingen-based biotechnology company CureVac AG, which has been the focus of the media recently, for its development of a vaccine candidate against the coronavirus. She is very much appreciative for the chance to be gaining work experience in the field of biotechnological research. "Even though, I obviously do not work in a managerial position with major responsibilities, it is still a great feeling to spend my time and energy on things that could benefit humanity," she says.
"In this time in particular, when athletes are mostly forced to wait, it is a perfect opportunity to keep moving forward nonetheless."
Leonie and biochemistry are together another destiny driven combination. In early 2014, her mother was diagnosed with breast cancer. She passed away in the summer of 2016 and Leonie says today that the personal connection, originated through the destinies within her family, was a driving force behind her major selection falling on biochemistry and biophysics at the University of Houston. She has made a decision: "After my hopefully successful golf career, I want to work as a cancer researcher in memory of my mother, grandmother and great grandmother, who all died of the disease."
Leonie is tackling the challenges posed by her two callings. Her journey in life gives her motivation. She is aware that she will fall, but she also knows that she can always get back up again. This is something she has proven before, and not just once. Therefore, she draws her strength from experience.
A return – a miracle
Her biggest personal victory followed an accident in the early morning of May 3, 2013. Out jogging, Leonie Harm was hit by a car going 70 km/h (approximately 45mph). The paramedics at the scene estimated her chance of survival at about one per cent. She was put in a medically induced coma, from where she fought her way back. Today, she recalls that severe brain injuries, multiple bone fractures, and other damage to her body did not stop her from having a rapid, almost full, recovery. Only seven weeks after the accident, she returned to the golf course – titled "a miracle" by the German daily newspaper "Die Welt".
Titles and records
"Through the way I was raised and the culture I grew up in – if you really want something, there is no valid excuse why you would not achieve it. I had a bad year due to my accident and again, when my mom passed away. Yet, your entire life does not have to be defined by your lows. You move on," says Leonie – and she is definitely moving on. Before she started the year as a rookie on the Ladies European Tour, she collected titles and records as an amateur player. The Golf Club St. Leon-Rot player became the first ever German to win the 2018 Ladies' British Open Amateur Championship – the 115th edition of the prestigious tournament. In the same year, she additionally triumphed at the German International Ladies Amateur Championship, which she won for the first time in 2015. Her career best of being No. 4 on the World Amateur Golf Ranking is the German record – for men and women.
Game-changer
She returned home from the University of Houston, where she graduated with a B.S. in biochemistry and biophysics, in December 2019. Her collegiate golf career includes four individual titles and the knowledge of having helped the newly founded University's women's golf team to establish itself amongst the best in the NCAA. "She is on our walls and in our record books, and it just gives us the credibility that this is a great place to be. She is a game-changer," eulogises the program's Head Coach, Gerrod Chadwell. Leonie Harm returns the compliment: "Out of my 22 years-worth of life decisions, going to the University of Houston was by far my best! It has been a true honour and absolute blast to be part of jump starting a women's golf program with such a bright future."
Aiming to return her game to the US
Leonie has a similarly promising perspective herself – on the golf course and in the biochemistry laboratory. She has big goals in both fields – major titles combined with breakthroughs in cancer research. Leonie likes to stay busy and golf training is continuing alongside the internship – workouts, running, lots of practice on her short game and technique. She will be ready when everything is back up and running, but nevertheless, takes full advantage of the long break in tournament play. She remains ambitious about the tournaments that are left on this year's Ladies European Tour schedule. She wants to use this year to gain more tournament experience as a professional, so that she will be able to give it her all in the next LPGA qualifying school.
Leonie does not stand still. Yet, for her, that is not very special: " I do not want to be defined by what happens to me in life. Instead, I want to be defined by what I make happen."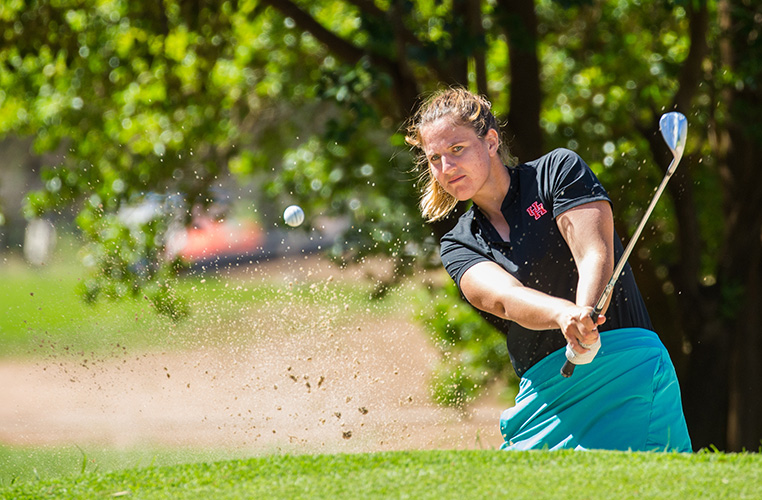 Key Facts about Leonie Harm
Born and raised in Stuttgart, Germany
Took up golf at an early age, after being inspired by her parents' passion for the game
Multiple German individual and team champion with the Golf Club St. Leon-Rot
Winner German International Girls Open (2015)
Winner 75th German International Ladies Amateur Championship (2015)
Winner 78th German International Ladies Amateur Championship (2018)
Winner 115th Ladies' British Open Amateur Championship (2018)
2015 Junior Solheim Cup Member of Team Europe at her home Golf Club St. Leon-Rot, Germany
Career high on the World Amateur Golf Ranking: No. 4 – German record
American Athletic Conference Female Scholar Athlete of the Year 2018/19
Academic All-American Athletic Conference Team 16/17, 17/18, 18/19
WGCA Academic All-American Team 16/17, 17/18, 18/19
University of Houston Female Scholar Athlete of the Year 18/19