Published on September 14, 2020
Hanbyeol Kim won a lot of admirers at the weekend by winning the Shinhan Donghae Open in such confident fashion, with animated fist pumps after holing key putts and a heartwarming family story.
The 24-year-old, who also claimed the Hedges Golf KPGA Open two weeks ago for his maiden win in Korea, revealed that his family has been providing financial support – to the extent that his father and mother, both teachers, have used their pension to assist him.
So the two wins could not have come at a better time.
"With the prize money, I want to buy a house and give it to my parents. I plan to be a good son," said Kim on Sunday, after winning KRW260,303,687 (approximately US$220,000).
He turned professional two years ago and joined the Korean PGA Tour last year where he has had some commendable results, before two magnificent wins in the space of three weeks this year.
"I thought of my mother and father who always supported me since I was young. I didn't shed tears like last time. The Jeonbuk Golf Association also put a lot into helping me. Thank you. And I learned a lot from Korea National Sport University [where he studied]. Thank you for everything," he added.
In July, he also lost in a play-off to Soomin Lee at the KPGA Open, but bounced back by beating Jaekyeong Lee in extra time at the Hedges Golf KPGA Open at the end of August – where he shed those tears.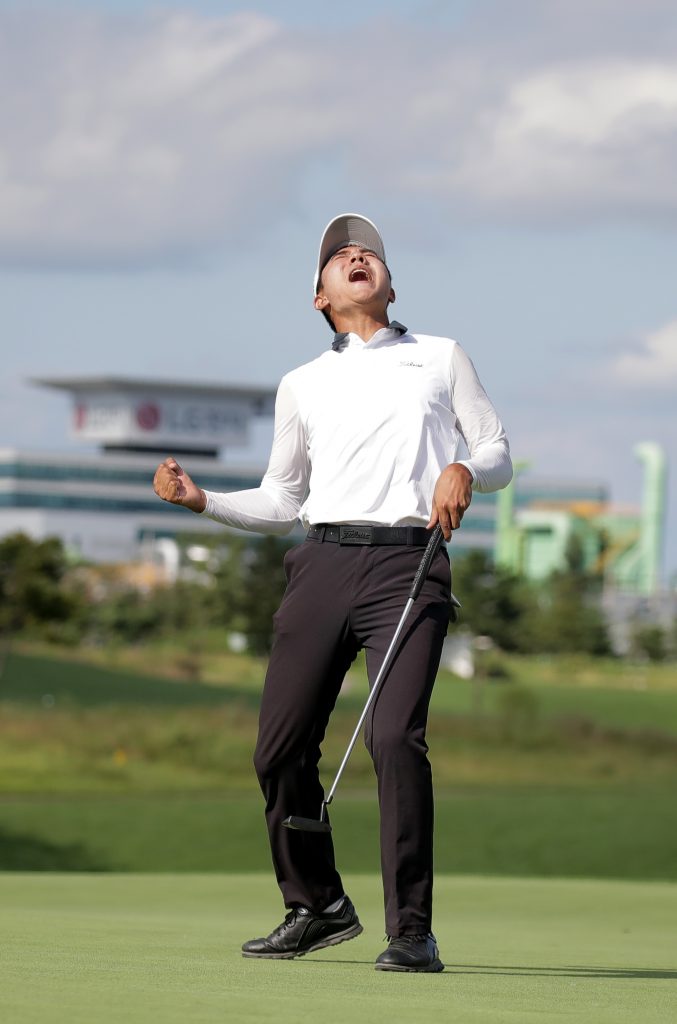 And he stormed to victory at the Shinhan Donghae Open by firing a final round four-under-par 67, for a tournament total of 14-under-par 270 – to beat Canadian Richard T. Lee, the 2017 champion, by two shots.
"I suddenly won two tournaments. Thank you to the fans and galleries who support us from afar. I'll be a player who plays harder without being arrogant. This year's goal was first to win. The first victory has already been achieved. Now I have a second trophy. I'm thrilled. The goal now to be KPGA Genesis season winner [the Money List title]. It's the highest honor," he added.
He has now firmly established himself as one of Korea's most exciting young golfers with a bright future.
"I got an Asian Tour card, I'm so happy. It's a tough situation with Covid-19, but if the competitions are held, I'm willing to play. I'm already excited. The tournament I want to win the most is the SMBC Singapore Open," added Kim, who nickname is "One Star", as Han means one and Byeol is star.
And he is already planning for next year's Shinhan Donghae Open. He said: "Next year I want to try steamed kimchi for the Shinhan Donghae Open champion's lunch!"