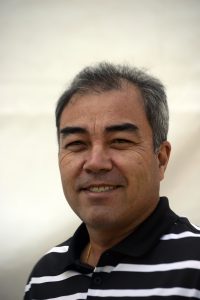 You just know a Q&A with Hong Kong's Dominique Boulet is going to be a great read. The popular and affable golfer played on the Asian Tour for over a decade; and he was an amateur star, earning a golf scholarship at the prestigious Northwestern University having also represented Hong Kong in the Eisenhower Trophy. Now a highly respected golf commentator and key figure on the Board of the Asian Tour, we spoke to Dom in Hong Kong and opened his treasure trove of stories.
1. It has been a difficult year. How has it been for you? What have you been up to?
Yes, like everybody it has been a difficult year. Certainly work wise: I have not worked since January, my last event was the SMBC Singapore Open. And my mother passed away very suddenly in February in the UK, so I was back there for a few weeks – which is why I missed the Bandar Malaysian Open.
But it's also been nice because I have been at home most of the time – I can't remember the last time I was at home for such an extended period, it must be 30 or 40 years since that happened. So I am spending time with my wife and son. We went to the UK for two months because my son turned 18 and he finished high school. He was starting university in London at Queen Mary University. So we went back to the UK at the beginning of August to get him ready but of course it's all online now so he ended up flying back with us to Hong Kong and he is studying from here – which is a bit tragic for him.
I have also been playing a bit of golf with my mates at the Hong Kong Golf Club, so it's all been a mixed blessing. I also went to Scotland for a week and we played Carnoustie, Western Gailes, Gleneagles and had a tee-time on the Old Course but we got rained off that day. And a couple of rounds at Blairgowrie. I just love Scotland.
2. You have enjoyed a highly-successful career in broadcast for nearly two decades. What do you enjoy about it the most?
I just feel I am really lucky. I watch golf and talk about it for a living, and I would be doing that anyway. I am lucky to have landed a job that is my passion. And the people I work with have been great. I have met a lot of guys I never thought I would get a chance to work with. Guys like Alan Wilkins, Julian Tutt, Dougie Donnelly, Tony Johnstone and Dale Hayes. These are people I used to listen to and enjoy listening to and now I get to work with so many of them. And I have enjoyed working with Richard Kaufman, Anthony Kang and many others. Also, I get to watch world class golf. It's been great.
I have never been nervous about it; I was a lot more nervous playing golf than commentating. I know the game, I study it, I am passionate about it, I read about it all the time, so I am prepared in the sense that nothing will really surprise me.
3. How did you get into broadcast and what was the first event you commentated on?
It was back in 2005. Derek Fung was doing commentary but could not make it to one of them. It was the BMW Asian Open at Tomson Shanghai Pudong. I think that was the first one and I worked with Alan Wilkins who was an absolute delight to work with. He was the best guy I could have learned from. He was fantastic and did not take it too seriously. And then I just went on from there, I have done it for 15 years now. I haven't counted how many events I have done but it must be 200 or 300.
4. Which have been the most memorable events you have commentated on? Any stand out moments in history?
Obviously the Hong Kong Open is close to my heart and there have been some fantastic moments there. The Rory McIlroy and Lin Wen-tang playoff in 2008 and when Rory won in 2011 I was actually on course following him. I love being on course, I don't do it very often but for some reason I was on course that week and there's Rory playing beautifully and I am calling the shots, up close and personal, that was a highlight. And I always love it when our Asian Tour players do well, like when Angelo Que and Scott Hend were in the play-off in 2014, and when Prom [Meesawat] played well in 2013.
And when Anthony [Kang] won in Malaysia [Malaysian Open] in 2009 that was so exciting.  When our members from the Asian Tour are in contention, in the big tournaments, and playing great, they are the ones I enjoy the most.
5. You played on the Asian Tour for many years. Do you miss those days and what did you enjoy the most?
Playing on the Asian Tour was fantastic. The camaraderie was amazing – you hear that from so many players, and it's true. The guys who have gone onto bigger Tours, in Europe or the PGA Tour, they all say their playing days in Asia were fantastic.
I remember those bus rides back from the course and you had 30 players on the bus, you had the Indians, the Americans, the Taiwanese, everyone was there and they were all chatting, all telling stories of their rounds
And sitting around a table at night in a remote place where everyone is staying, like Sunrise Golf & Country Club in Taiwan for instance. The stories that were flying around, the incidents that occurred, it was just a memorable time.
It was our career and we took it seriously, but we had our moments when we relaxed, like on Sunday nights and travel days on Monday, and even Tuesday's sometimes …
I miss those days but I certainly don't miss playing poorly. Those runs when you are playing poorly and you felt bad about yourself. You question yourself, even your self-esteem because you feel like your golf is defining you. I don't miss those days but when you were playing well there was nothing better. And we really weren't playing for that much money back then; we were just covering costs but it was a great way to live a life.
6. Best ever funny story about life on Tour?
My funniest ever moment was actually in college. I was playing with an Italian-American guy called Marty Caifano. Marty was deaf, he had to wear hearing aids, he was pretty hearing impaired. We were playing a practice round, and this road was running beside the hole and there was an ambulance driving by with the siren on and Marty is standing on the green tapping his hearing aid – as he thinks the battery is out and it's beeping. I said: "Marty it's not your hearing aid, it's the ambulance mate, it's the siren". Well he starts laughing so hard that he starts stumbling backwards and falls back into a bunker! Unbelievable. So many things have happened on the golf course but that was one of the funniest.
7. You had your chances to win. Which were the ones that got away?
My best finish was fourth; six or seven times I finished fourth. I had chances coming into the back nine on Sunday but did I feel I was right in it with a hole or two to play? Maybe in Dubai one year, when I was fourth. I had the 36-hole lead there. At Hong Kong Open I finished fourth in 1996 but I shot 65 on the last day. I had some good finishes in Taiwan and Korea. What I have really learned in commentary is how fragile and undisciplined I was on the golf course. I had no patience. I just didn't have the mental capacity to play this game and it's still the same to this day. We had a tournament at the Hong Kong Golf Club – a two-day event for some professionals and amateurs and juniors. And even then, the amount of shots I gave away through bad discipline and no patience. I am 55 years old and I still can't control my emotions on the course!
I observe these top guys now and you can see their patience and discipline is at an extraordinary level. They don't fire at the pins all the time. Tiger Woods for examples fires at the fewest pins and yet he has the most game. It takes something I don't have, I don't possess.
8. What are the biggest changes you have seen on the Asian Tour over the years?
I think how disciplined the players are. They have taken it up another level professionally. Guys are working out and training really hard. I am talking about the Asian Tour in particular. They have very few off days when on the road. In general 98% of the players are doing everything they can to try and get to the next level.
From a tournament perspective, there is a lot more live television than when we played. We had highlight shows and a few live events but now we have 10 to 15 live events per year.
And tournaments are just better run, courses are in better shape.
9. You are on the Board of the Asian Tour. What are your hopes for the Tour in the future?
In the immediate future I hope we get back playing again. Hopefully at the start of next year. That is the plan. So much is out of our control. Cho [Cho Minn Thant, Commissioner and Chief Executive Officer, Asian Tour] and his team are doing a great job, working really hard to try and get the Tour up and running. Ours it probably the most international Tour, along with Europe, so it's hard with the travel restrictions. It is a shame because before lockdown, we were getting a lot of momentum.
I would just like to see a healthy, 30 to 35 event schedule. I think that is ideal. Playing for minimum purses of at least US$500,000 – so guys have a good opportunity to make a living to develop their games. And we were not far away from 30 events before the pandemic.
10. You enjoyed a great amateur career and played at Northwestern University. What was that experience like?
It was fantastic. The first time I stepped foot on American soil was September 1985 when I was starting college. I went there with one suitcase and a set of golf clubs.
Before that, in Hong Kong, I had been working for a fella called Peter Stevenson – a very successful businessman, who also handled Ram Golf there. He went to Chicago on business and he passed my resume to Ram and Wally Goodwin, the coach at Northwestern at the time (Goodwin later became coach at Stanford when Tiger Woods was there). Wally called me, we had a one-hour chat on the phone in early 1985, and he asked me a bunch of questions. By then I had won the Hong Kong closed and open amateur titles. And he asked me how far I hit my three iron and I think I said about 190 yards, I still remember parts of that conversation. I had to send in my O and A Level results from England, and he wrote a few weeks later and said: "if you want to come, I have a scholarship for you".
It was very exciting to be in America, I couldn't believe how cold Chicago is. It's brutal.  I thought England was cold but it's not even close. It was artic. So there was not much golf in the winter. But people mistakenly think all you do is play golf on a golf scholarship but you have to go and take classes and get your degree, like every other student there. There was a lot of work to be done and Northwestern is a very good school. I made a lot of good friends, Fran Quinn [two-time Asian Tour winner] being one of them. Fran was on the team with me. And I used to spend the summers with him and his family. It was great, it is an experience I cherish.