Indonesia's budding young golf star Danny Masrin, like the vast majority of members on the Asian Tour, has chosen to use the current downtime – caused by the coronavirus pandemic – wisely and constructively.
"I decided to go back to school," says Masrin.
"I have been doing an online Masters programme, which I started in May. It's with the Thunderbird school, through Arizona State University. I thought if I am ever going to do it, now is the time."
Keeping the mind sharp is a smart move by the 27-year-old as he is as eager as anyone to get back in action when the Asian Tour resumes.
Prior to lockdown gripping the region in March, Masrin unlocked his potential and found what it takes to play and compete with the best in the region.
He explains: "From the end of last year I was playing really good golf – since the BNI Indonesian Masters until the Bandar Malaysia Open. There were six tournaments there where I had two top-10s, three top-15s, I was playing pretty good. I was really happy."
He had struggled to find his feet on Tour since turning professional in 2015, but last year his patience and conviction started to pay off.
In the middle of the year, his upswing in fortunes started when he made the cut in seven tournaments in a row, including finishing seventh at the Yeangder TPC in Chinese Taipei.
And then came the BNI Indonesian Masters in December at Royal Jakarta Golf Club.
"I was 55th on the Order of Merit going into the BNI Indonesian Masters – I was kind of on the edge, and I really wanted to finish higher. People were saying you are safe but the higher you are the better it is," said the Indonesian.
Impressively, he overcame the pressure of fighting for his Tour card, and playing in front of his home support, to produce a breakthrough performance and finish in a tie for fifth – his best finish on Tour.
He says a big factor contributing to that result was having his mentor, Teddy Harmidy, caddie for him.
"To have Teddy, a good friend and mentor as my caddie was amazing. We play and practice all the time. It just gave me a level of comfort," he says.
"Everything clicked there at the right time. We both know that course very well. So it was a matter of executing."
After that result he headed to the Thailand Masters – the final event of the year – brimming with confidence.
He says: "I still remember how much of a relief it was going to Thailand for the last event, as I had secured my card. I could just go out and play, there was no pressure any more. Knowing that I would get into a lot more tournaments, and that I could actually prepare. In the past it was like you might get into this tournament but you might not. Sometimes you had to be ready to leave at last minute notice."
It was indeed a new dawn for the young Indonesian: he finished in the top-20 in Thailand, and in early 2020 he recorded a top-30 finish in the Hong Kong Open, captured equal eighth place in the SMBC Singapore Open and ended joint 13th in the Bandar Malaysia Open.
But, unfortunately, soon after Malaysia the Tour had to hit the pause button because of coronavirus.
"I have been in Jakarta since then, it's probably the longest I have been in Jakarta," says Masrin, who attended Bradley University, in Illinois, where he played on the golf team.
"After that solid start to the year, the schedule had been looking really good with events going two weeks on, two weeks off through to August but then we have to go through this."
Masrin has since been playing and practicing and as he says: "keeping the body warm and in shape, and ready to play again."
"I used to be of the mindset that if I take too many days off, I won't be ready to play but it has been nice to know that if I take a few days off my body is still ready to play again at a high level," he says.
"I am still playing pretty well, there have been moments during these five months when I wished there were tournaments to play in but there is nothing you can do about it."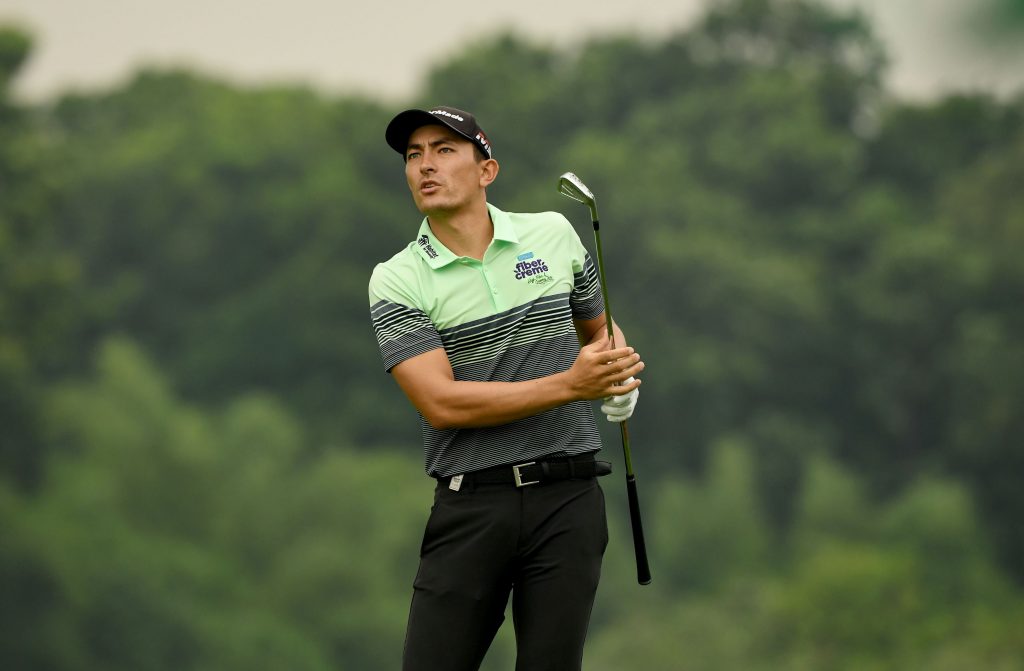 He practices at the Royale Jakarta, Pondok Indah and BSD courses and has been buoyed by the fact that the local Tour is aiming to stage an event each month from September until the end of the year.
"It is something to look forward to as we have not played in so long," says Masrin, who has won seven events on local tour, with the most recent last year.
Masrin was also aiming to play in this summer's Olympics and was bitterly disappointed it was postponed.
"For the longest time, for the last two and a half years, one of my biggest aims was to qualify for the Olympics. To have an Indonesian player represented at golf in the Olympics was the ultimate goal," he says.
"This year we were coming down to the final stretch in the run up to Tokyo, I was on track to qualify and that's why I was so excited I was playing well, but then obviously things changed, and now I will prepare for the tournaments I need to play in order to qualify for next year."
There is no doubt that there is now huge cause for optimism for Masrin – thanks to his new found form and fine performances.
That has not always been the case over the past few years.
"There are a lot of struggles in golf, from the mental side, to the physical side, to the golf swing," he says.
"There was a time in 2017 when I was playing really poorly, and I thought about quitting golf and I thought about what my options were. But when I first started playing professionally, I said I would give myself three to five years to see if professional golf was a stable career for myself and I have stayed true to that.
"Golf is a tough sport to be in as it is so uncertain. From week to week, it's tough as you don't know if you will have 10 weeks of missed cuts, with 10 weeks of spending money without making money, or you win one event and everything changes."
As well as Teddy Harmidy – a former Indonesian national player, who played with American star David Duval on the Georgia Tech golf team in the United States – playing an important role in his success, a more holistic approach has also been key.
"What I have done well, the last year and a half, is I have started to focus on the statistics more. I have broken it down into more of the technical side, not of the swing, but the numbers of what needs to be focused on. I think I have a very good idea of what my strengths are and what my weaknesses are. I have been able to focus on those areas over the past 18 months."
The analytical strategy has clearly worked and with a Masters degree imminent, he will be more applied than ever when the region once again opens up to tournament golf.
Ends.