The 2020 US Open is a tournament players and fans alike will never forget. There was memorable tennis on the court and unique circumstances off it, which led to plenty of innovations and a new experience at Flushing Meadows.
At the end of the fortnight, Dominic Thiem made history by becoming the first Austrian to win the US Open, defeating Alexander Zverev in a dramatic 2-6, 4-6, 6-4, 6-3, 7-6(6) thriller.
ATPTour.com looks back at 10 things to remember about the US Open.
1) The Suite Life
Being seeded at a Grand Slam has its advantages. But at this year's US Open, an extra bonus was available to those who earned one of the 32 seeded positions in the draw: a private suite at Arthur Ashe Stadium.
Players have taken full advantage of this perk, using their suites as private locker rooms. Many ATP Tour stars have been spotted in the balcony area of their suites, grabbing a bite to eat while watching many of the must-see matches on the tournament's main stadium court.
Filip Krajinovic, the 26th seed, had fun during his time in his private suite. His coach, former World No. 8 Janko Tipsarevic, took the time to upgrade Filip's suite with a number of personal touches. Tipsarevic added a red carpet to the entrance and bought speakers and artificial flowers to improve their new 'apartment'. The home improvements did not go unnoticed. Neighbour Novak Djokovic was quick to show his approval.
"Novak saw this and said, 'Hey, why don't you give me some flowers? Your suite looks awesome,'" said Tipsarevic. "So I bought some more flowers and that's basically how it happened."
2) The 'Entertainment' Slam
With players spending more time than usual at their hotels, tournament organisers have come up with numerous ways to keep players entertained during their time in New York.
Every night, a complimentary food truck was available to players and there have also been regular trivia nights to keep players in the competitive spirit. There is also a big screen in the courtyard area showing live sport, such as the NBA and NHL playoffs.
But perhaps the most popular feature has been the games room, where players have been able to test their skills in golf, ping pong, pop-a-shot basketball, foosball and more.
"There was a lot of foosball taking place," said Ken Skupski. "Andy Murray and Jonny O'Mara were dominating the world, they took on the Russians the other day. They asked for better competition as the week went by. Some of us were at the golf simulator. Quite a few of the English guys have a very good handicap… we've had a nearest-to-the-pin competition. There were seven or eight of us all going at the pin, which was great fun."
3) Life In The 'Bubble'
This was a US Open like no other. With players contained in a controlled, bubble environment to reduce the spread of COVID-19, they were not able to explore the city, revisit their favourite restaurants or attend Broadway shows.
During his time in the bubble, which consists of the USTA Billie Jean King National Tennis Center and two player hotels, Hubert Hurkacz's coach Craig Boynton discussed his first-hand experiences.
"Usually during the US Open everyone loves spending time in Manhattan, but that's okay. It is what it is," said Boynton. "I told Hubi yesterday before he played his match that the bubble has actually been fun. Hopefully we'll never have to deal with this again, but we're trying to make the best of it and I think we'll look back at this and cherish the bubble time because it's been so different."
4) It Was Thiem's Time
Dominic Thiem captured his first Grand Slam trophy at the US Open, becoming only the second player from his country (also Thomas Muster) to earn a major title.
The 27-year-old entered the event with no momentum. He only won three games against Filip Krajinovic in his opening match at the Western & Southern Open, which came one week before this event. But Thiem used his massive groundstrokes to work his way into form at Flushing Meadows.
Between his weight of shot and the quick speed of the New York courts, Thiem quickly showed it would take a tremendous performance to beat him in this US Open, only losing one set en route to the final, including an impressive straight-sets semi-final triumph against Daniil Medvedev.
But Alexander Zverev brought his best tennis of the tournament on Championship Sunday, leading by two sets and a break. He also served for the match in the fifth set. Thiem never gave up, overcoming a game opponent and cramping towards the end of the decider to finally lift a Grand Slam trophy on his fourth attempt. The Austrian triumphed 2-6, 4-6, 6-4, 6-3, 7-6(6) to become the first player to overcome a two-set deficit in the US Open final in the Open Era.
5) So Close Yet So Far For Zverev
Zverev showed great heart to put himself in a winning position at a major for the first time. On this occasion, it was not enough.
The 23-year-old was the underdog entering the final, especially after his slow start in the quarter-finals against Borna Coric and the semi-finals against Pablo Carreno Busta. But the German played tennis reminiscent of the level that helped him win the 2018 Nitto ATP Finals to sprint to a two-set lead against the big-hitting Thiem. Perhaps what was even more impressive was that when the Austrian rallied to force a fifth set and immediately broke to take the lead, the fifth seed did not go away.
Zverev showed great courage to battle back and earn a chance to serve for the biggest title of his life. The 11-time ATP Tour champion will be disappointed he was unable to convert on the opportunity, but there are plenty of positives. Zverev advanced to his first Grand Slam final and he came within two points of lifting the trophy. Thiem won one set in his first two major championship matches combined.
Zverev departs New York as the first German Grand Slam finalist since Michael Stich in 1994 and the youngest major finalist since Novak Djokovic at the 2010 US Open.
6) Pavic/Soares' Maiden Moment
After surviving early scares in their opening two matches of the tournament, Mate Pavic and Bruno Soares claimed their first Grand Slam championship as a team at the US Open.
The unseeded pairing, who fell in the first round at the Western & Southern Open, did not face a break point en route to a 7-5, 6-3 victory against eighth seeds Wesley Koolhof and Nikola Mektic in the championship match. Pavic and Soares beat two seeded teams in New York, having also eliminated fifth seeds Marcel Granollers and Horacio Zeballos in the first round.
"It means a lot. That's what we practise for. That's what we were trying to do in these five months off, working for this moment," said Soares.
"We did have tough matches," said Pavic. "We got through tough moments throughout the week… [We are] very happy to be here lifting the title."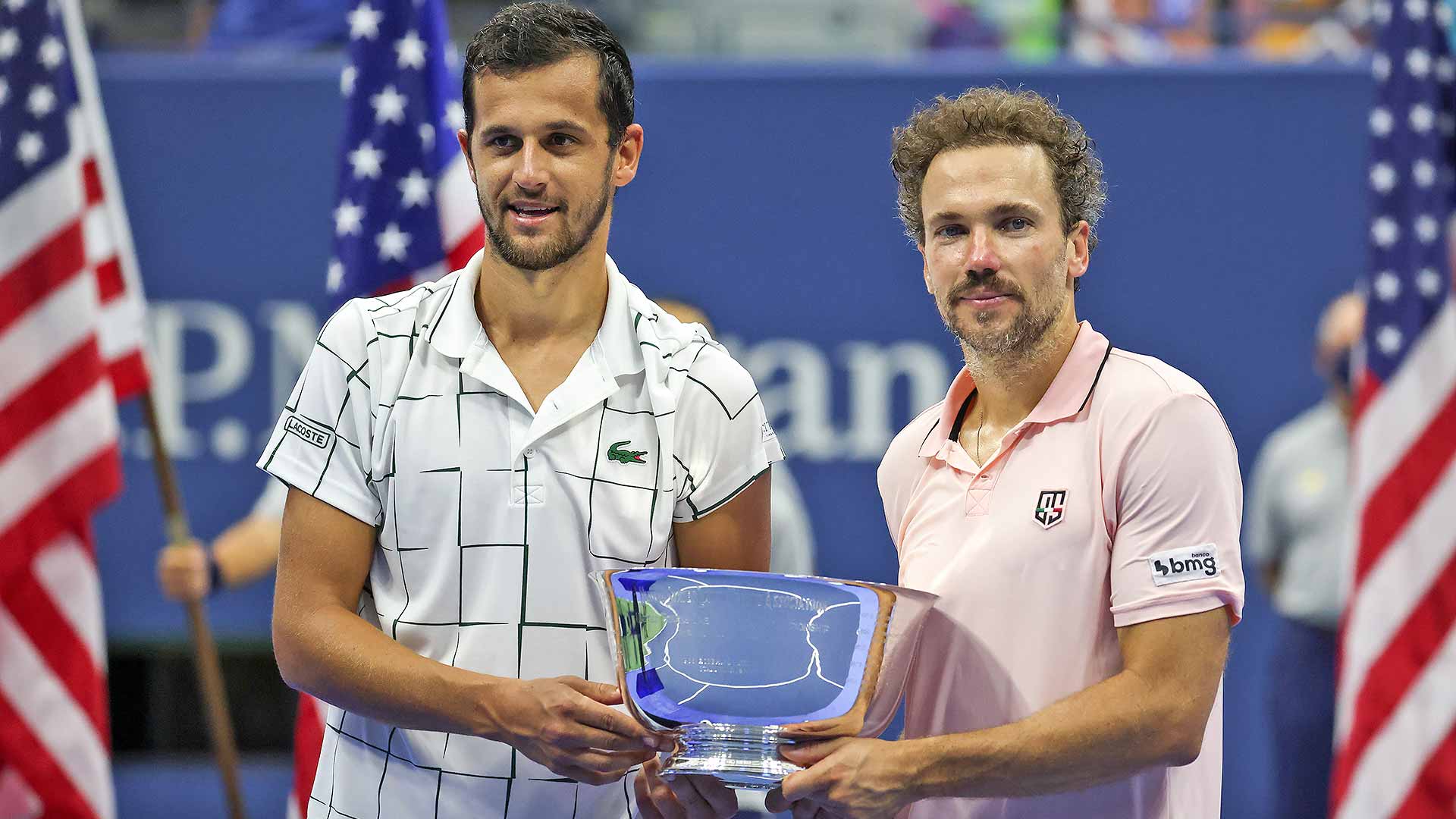 7) Unusual Exit
Due to the pandemic, the 2020 US Open was already the most unusual major of the Open Era. And then came the exit of top seed Djokovic. After dropping serve to trail 5-6 in the first set of his Round of 16 match with Pablo Carreno Busta, Djokovic hit a ball that unintentionally struck a lineswoman. That action led to him being defaulted from the tournament.
The World No. 1 later released a statement on social media saying, "This whole situation has left me really sad and empty. I checked on the linesperson and the tournament told me that thank God she is feeling ok. I'm extremely sorry to have caused her such stress. So unintended. So wrong.
"As for the disqualification, I need to go back within and work on my disappointment and turn this all into a lesson for my growth and evolution as a player and human being. I apologise to the US Open tournament and everyone associated for my behaviour. I'm very grateful to my team and family for being my rock support, and my fans for always being there with me. Thank you and I'm so sorry.
8) Representing Russia
Daniil Medvedev and Andrey Rublev flew the Russian flag with great success in New York. They became the first Russian duo to reach the quarter-finals at a Grand Slam event since Igor Andreev and Nikolay Davydenko at 2007 Roland Garros. No Russian pairing had achieved the feat in New York since Davydenko and Mikhail Youzhny in 2006.
Medvedev and Rublev met at the quarter-final stage, with 2019 runner-up Medvedev battling past his countryman in a competitive three-set battle to reach his second straight US Open semi-final. Rublev's run to the quarter-finals took his win tally to 19 matches in 2020. Only Djokovic, with 26 victories, owns more wins this year. 
9) Canadian Success
For the first time, three Canadian men reached the fourth round of a Grand Slam event. Shapovalov, Felix Auger-Aliassime and Vasek Pospisil made history in New York, far surpassing the previous best mark for a Canadian trio at a major championship. Before the tournament, no Canadian trio had reached the third round of a Grand Slam.
Shapovalov led the way, winning four matches to advance to his first Grand Slam quarter-final. The #NextGenATP star overcame Sebastian Korda and Soonwoo Kwon in four sets to reach the third round, where he rallied from two-sets-to-one down to move past 19th seed Taylor Fritz. In the fourth round, the 21-year-old recovered from a set down to beat David Goffin and achieve his best Grand Slam finish.
Auger-Aliassime and Pospisil joined Shapovalov in the Round of 16 with inspiring runs of their own. Auger-Aliassime, who entered the tournament with a 0-2 event record, scored wins against Thiago Monteiro, 2012 champion Andy Murray and Corentin Moutet. Pospisil earned a straight-sets victory against Philipp Kohlschreiber, before eliminating countryman Milos Raonic and eighth seed Roberto Bautista Agut.
10) The Future Is Now
Eleven men aged 22-and-under reached the third round in New York, the best result for that age group at the US Open since 1992. The last major championship to feature more 22-and-under players in the third round was Wimbledon (13) in 2005.
Three of those 11 players — Denis Shapovalov, Alex de Minaur and Rublev — advanced to the quarter-finals. The last eight spots in the singles draw were filled entirely with players born in the 1990s, a first for a major championship. Thiem ended a six-year wait for a first-time Grand Slam champion when he defeated Zverev to become the first player born in the 1990s to clinch a Grand Slam title.