Hi everyone, my name is Bruno Soares and last week I won the US Open doubles title with Mate Pavic. Usually after a Grand Slam I head home to Brazil, but these are different times. Right away we left for Rome to get ready for the Internazionali BNL d'Italia. I wanted to bring you behind the scenes of what my life has been like over the past few days.
After winning there is so much buzz back home with the media, social media and all that. I was on every TV show. All my friends were texting me. It was very intense. In a way, the time since winning the tournament has actually felt the most normal since I flew to New York.
You're extremely happy, but the adrenaline goes down and there's still so many messages to answer and people to talk to. It's quite tiring after winning a Slam. Everything adds up. Mate's doing pretty well, though. He is 10 years younger than me, so it's easier when you're 28, not 38!
Everywhere you go in New York is always completely packed, but there were way less people in the airport. I feel that everywhere there's this weird vibe. Some people are a bit more worried than others and you feel a tension everywhere you walk. It's not fun to be honest, but it is something we have to deal with. As tennis players we need to go to the airport. We're going to have to get used to how this is. I understand that these are unprecedented times.
I know that personally. I unfortunately tested positive for COVID-19 a couple weeks before flying to New York. I was literally on the clock to not be able to play the Western & Southern Open. When I tested positive, even though I had no symptoms, the doctor said not to do anything for 14 days. That was tough. I was lucky enough to test negative in time to fly to New York, but I hadn't touched my racquets for 14 days.
I felt like I had a great preparation for returning to tennis with my fitness coach and those 14 days just took me down. For me it was very important to get back into shape as quickly as possible. It's tough when you're playing good tennis, but not in good shape. Doubles is a very explosive sport, you need to be very quick with hand-eye coordination and everything. It actually helped me that we lost in the first round of Cincinnati. I can't complain, we won the US Open!
We couldn't get any direct flights on Friday to Rome, so we went through Lisbon. New York to Lisbon was six hours, 40 minutes and going from Lisbon to Rome took two hours, 40 minutes. I was hoping for a 10-hour flight so I could sleep! I didn't even turn on my TV because I was sleeping the whole time. 
The only time I don't go home after a major is after Roland Garros. But this is definitely different, because we are going from the US Open straight to the clay season in Europe. When we got to Rome, we immediately checked in, went through all the safety protocols — including a COVID-19 test — and went into 24-hour quarantine as we awaited our results. We all tested negative and were able to practise on Sunday evening at the Foro Italico. It all starts again!
We have a tough draw here against last year's Cincinnati winners Ivan Dodig and Filip Polasek. But that is expected at a Masters 1000. The draw looks a lot like the US Open, so while we don't have many days to prepare, we need to try to carry the energy and momentum from New York and put it into action here in Rome. I'm extremely happy to have to quickly get ready because we won a Grand Slam. That's a good problem to have!
You might be wondering what it was like for us in New York. There were no fans at this year's US Open because of the COVID-19 pandemic. Of course that is understandable, as the tournament had to think of safety first.
But to be honest, the tournament still felt like a Grand Slam. The energy, the pressure and the will to win you sense at a major seemed the same. There is always extra tension in the air. Walking onto the court inside Arthur Ashe Stadium didn't have the same atmosphere, but the feeling of waking up and preparing for a Grand Slam final, warming up on centre court and getting ready felt normal. I could still feel those butterflies in my stomach.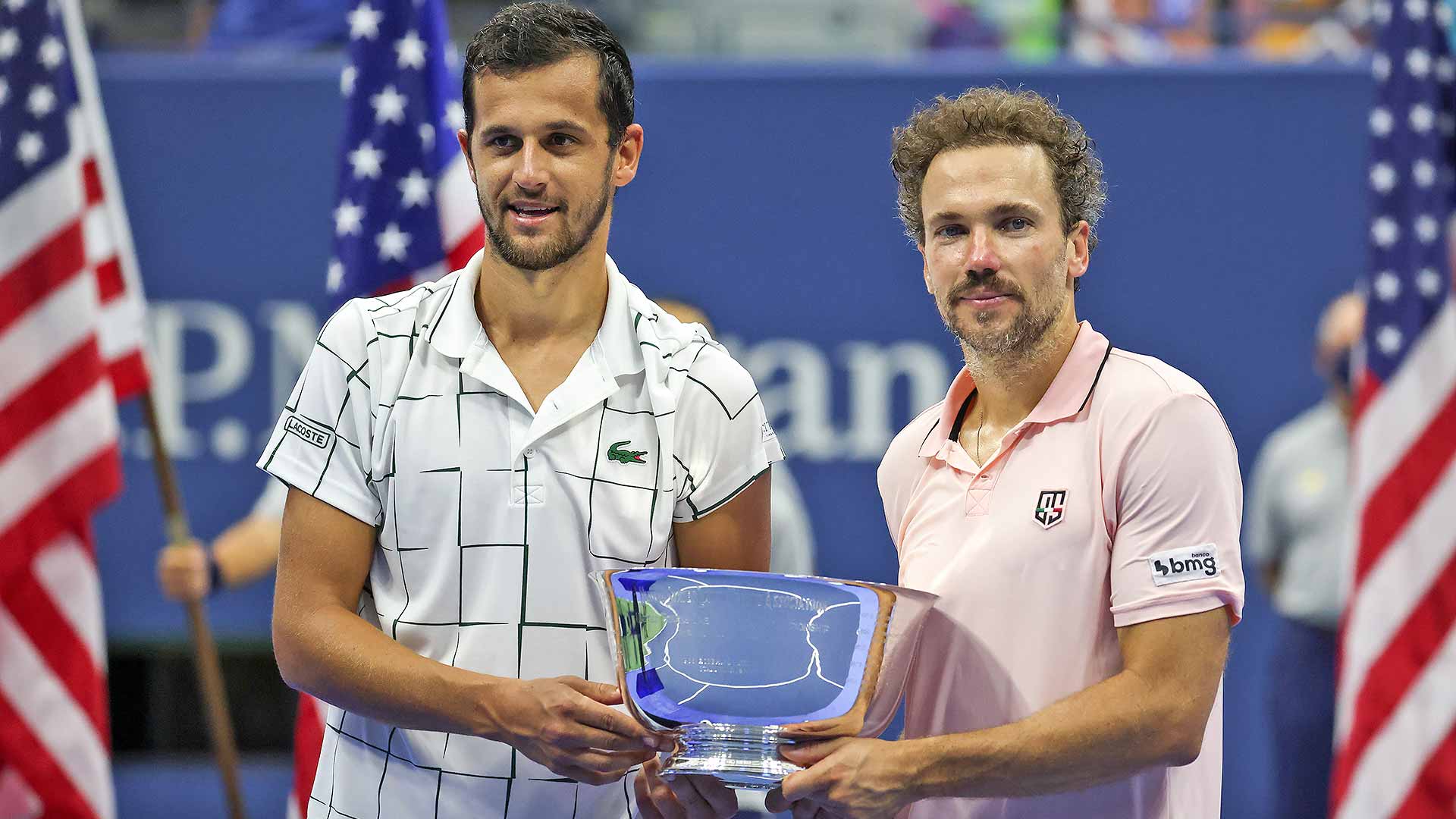 Photo Credit: Al Bello/Getty Images
The tournament gave me a private suite towards the end of the tournament. The day of the final I walked out on the balcony and visualised the match. Those are the moments that we play for. Of course we want to go out there to a packed stadium and have a great atmosphere, but we knew that was not the case this year. For me it was quite nice to just enjoy that moment before the final and feel how lucky I was to play in a Grand Slam final again.
After match point, Mate fell to the court and I could only scream from excitement. It was amazing! Even though this US Open was different because of the pandemic, everything that you get in a Grand Slam final was the same. With everything going on, it feels extra special and to win a major title in our second event back on Tour.
Four years ago when I won the US Open with Jamie Murray, I had about 50 friends here with me, so we all went and celebrated after. Now it's completely different. I was FaceTiming with friends and family. But then I just went back to the hotel and had a few beers with Mate and our physios. That was probably the biggest difference.
Winning a Grand Slam is an amazing feeling and there is a massive adrenaline spike during that time that brings your energy all the way up. You feel the excitement with your team, everyone around you, the way people talk. Your friends get extra pumped and send you lots of encouraging messages. That feeling never gets old.