It's the Launchpad of Legends… ATPTour.com reflects on the moment that launched Juan Martin del Potro's career, on the 15th anniversary of his first ATP Challenger Tour title in Montevideo, Uruguay.
Every player has had their start here. Regardless of talent and potential, all players have come through the ATP Challenger Tour as they begin their climb to the upper echelons of the game. However, not all paths to the top are created equal.
Del Potro's rise was as rapid as they come. We all know the Argentine as one of the biggest hitters on tour, throwing down mammoth serves and launching forehand bombs from all corners of the court. While his aggressive baseline game has seen him ascend to No. 3 in the FedEx ATP Rankings, this shotmaking arsenal was built from an early age.
At 16, Del Potro was already striking fear in his opponents. As he embarked on his professional career, the Argentine needed just three tournaments to reach his first ATP Challenger Tour final, in July 2005. And by the end of the year he was lifting his first trophy.
It was a historic maiden title for Del Potro on the clay of Montevideo, Uruguay. The Tandil native was only 17 years and one month when he seized his first piece of silverware. Fifteen years later, he remains the youngest winner from South America in Challenger history and 14th-youngest overall.
"I remember that it was my first Challenger title," Del Potro said. "It was in Uruguay in 2005. After winning here, I really felt like I was a professional tennis player for the first time. I started believing in my game and it showed the people working with me how good I can be in the future. I think I made a pretty good career after winning this title."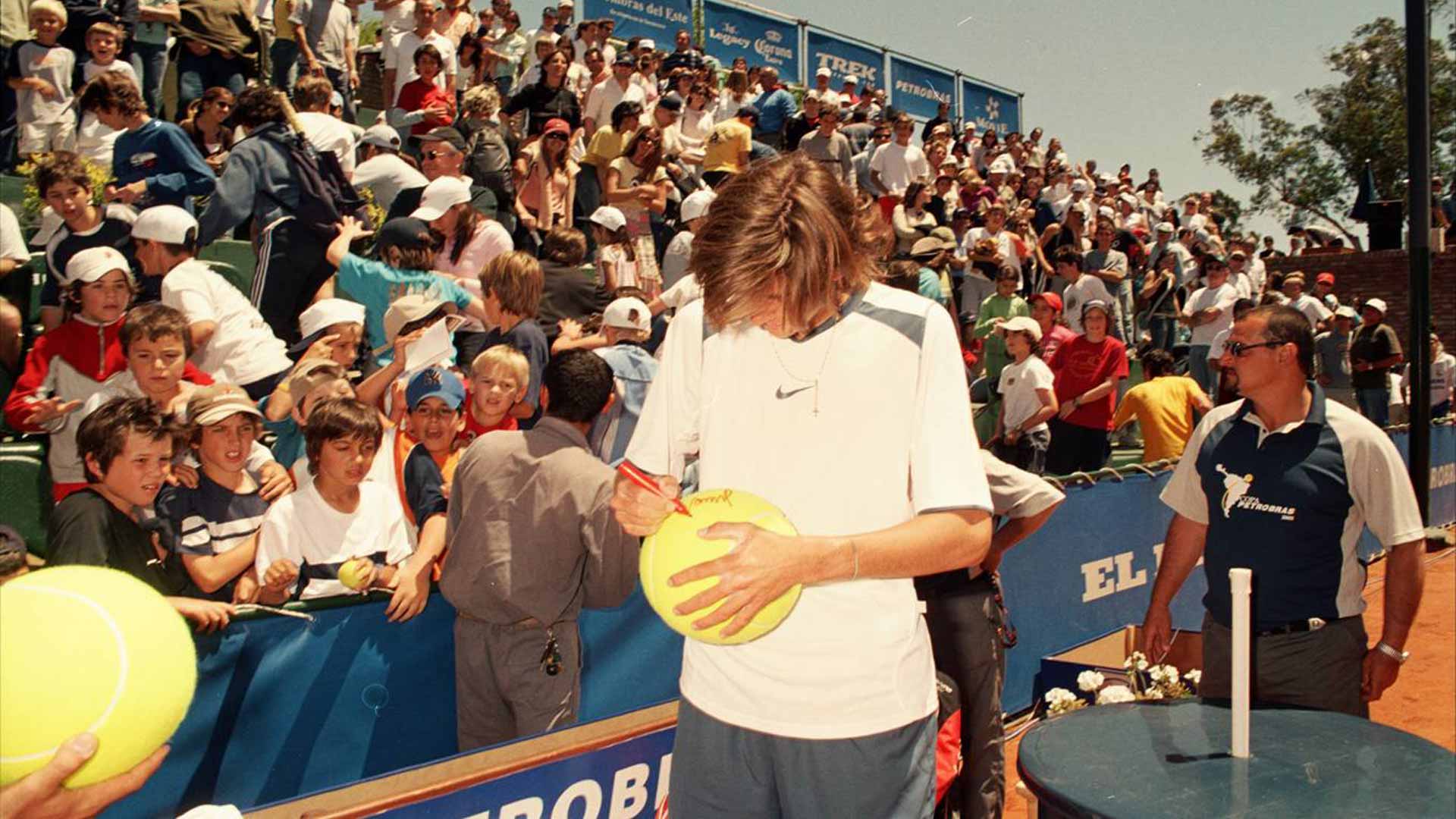 His week in Montevideo marked Del Potro's first tournament as a Top 200 player and it would not be long before he took the next step in his young career. As the Argentine continued to develop his craft and hone his talents, he hit one milestone after another. Just one year later, Del Potro would enter the Top 100 for the first time.
It was in 2006 that Del Potro graduated from the ATP Challenger Tour with aplomb. In April, he won his second title in Aguascalientes, Mexico, and in August he added a third in Segovia, Spain. His victory in Segovia was his first professional title on hard courts and moved him into elite company. Del Potro is one of just five players to win three titles before their 18th birthday, along with Novak Djokovic, Richard Gasquet, Felix Auger-Aliassime and Carlos Alcaraz.
From that unforgettable day in Montevideo to the culmination of his Challenger career, shortly after triumphing in Segovia, it proved to be a critical 12 months in Del Potro's development. Not only did he continue to adapt as he grew physically, but the Argentine developed a dogged mentality that has stayed with him throughout his career.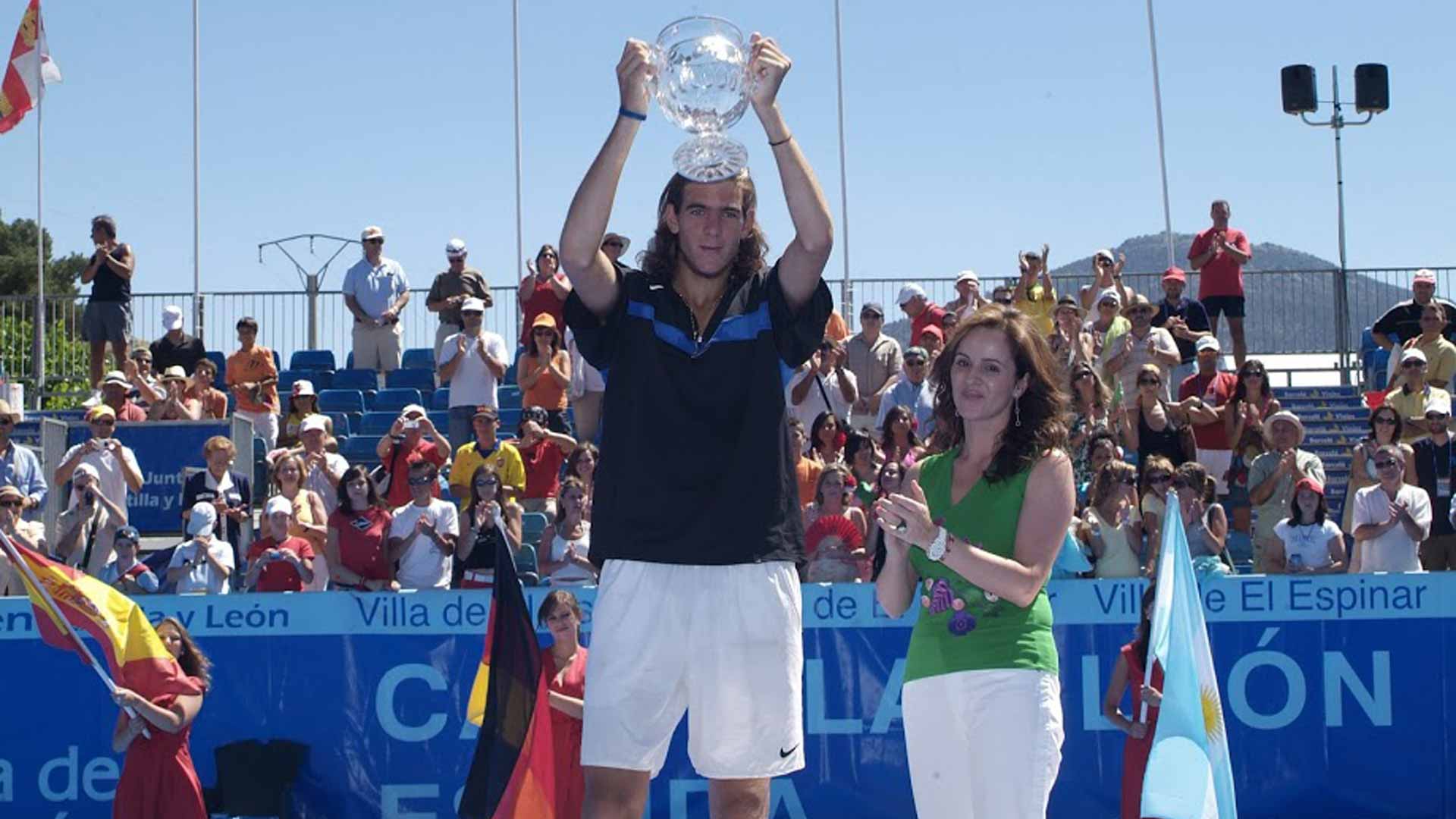 Del Potro with the trophy in Segovia 2006
The steady progression would translate to the ATP Tour. As the calendar flipped to 2007, Del Potro would secure his first Top 10 win (d. Robredo) in Madrid, and in 2008 he entered the winners' circle with a maiden tour-level crown in Stuttgart. And one year later, he celebrated the crowning achievement of his career at the US Open.
"It's the step before the ATP Tour and the Challengers are really important to learn and grow," Del Potro added. "They are magnificent tournaments and they are all very important."